"blending activism and filmmaking"
anand
patwardhan
"Final Solution"
rakesh
sharma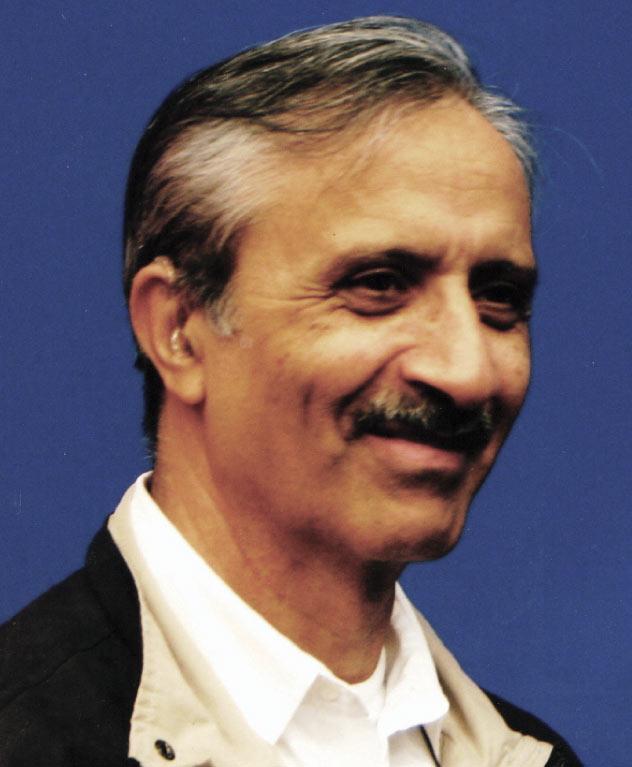 A TRIBUTE TO
MAHARAJ KAUL
(1940-2009)

Ved Prakash Vatuk bids a fond farewell to Maharaj Kaul, a passionately committed activist who worked for progressive causes for decades. Kaul died Sept. 30.2009
SOFT AS A LOTUS
HARD AS A ROCK
On September 6, 2009 I got a call from my dearest friend Maharaj Kaul. He said, "I did not want to tell you that I have been diagnosed with a liver cancer. I did not want to tell any- one and worry him/her. But now the time has come to transfer the responsibilities of running our organization India Relief and Education Fund. So I have to tell a few friends."
It showed that even in his last few weeks he was not so worried about his horrible disease as he was about the feelings of his friends. Ashok Bardhan, one of the trustees, and I decided to visit him the next day with his assent. The visit lasted for only half an hour. He told us the cancer has reached the dangerous point. If the therapy works, he may live for two more years, otherwise maybe six months." He already was meticulously planning an action to distribute his collection of books, videos that he made, the exhibitions of various kinds to hand over to the proper persons, so the work for social change can continue. When we tried to tell him that the time has not come up yet, he said, "I am a realistic man. I know what is happening to me. I have achieved 90 percent of what I wanted to do. I am satisfied." He was tired and we left, so he can rest. But before we left he made us promise not to tell anyone. "Not yet."
And next time we planned to visit him on Sept. 30. We were only fifty yards away from his house when his daughter called, "Uncle, he just passed away. At 11:05 am."
And thus, a great soul departed leaving his old father, two brothers, four sisters, a daughter, two grand daughters and many relatives behind. All were present there to offer their last prayers. He was so beloved.
Maharaj K. Kaul, born on Nov. 11, 1940 in Srinagar, Kashmir, was the second son of Kashi Nath Kaul, a civil servant in the Kashmir State Government, and Shobha Devi. After getting his engineering degree from Patiala, Punjab, he got his Ph.D. in civil engineering from the University of California, Berkeley in 1972. Till his death he was working with G.E in their research wing. He authored several research papers and he was well known in his field.
But Maharaj's passion was the work he did promoting social justice, economic equality and freedom for masses. Ever since his university days, when he was active in India Forum, he relentlessly worked for his passion.
He was the founding member of many organizations, such as South Asians for Collective Action, Coalition against Communalism, Pakistan - India –Friendship Society, Gadar Heritage Foundation and the founding director of India Relief and Education Fund He had organized dozens of film screenings of progressive Indian films, plays and other events to promote the causes close to his heart. He never sought fame or credit for his tireless work. And his mother fondly told us many times he was a gentlest saintly son and friend. Indeed he devoted so much time to solve problems of his friends. He was a total giver.
We can not put in words what we lost in his demise. We send our deepest condolences to his bereaved family, particularly his father and beloved daughter Aparna and her two lovely daughters.
---
Poet folklorist Ved Prakash Vatuk's many awards include the U.P. government's Pravasi Bharatiya Hindi Sahitya Bhushan. "Essays in Indian Folk Traditions," his collected writings, has just been published by the Folklore Institute, Berkeley, Calif.
Soft As A Lotus Hard As A Rock (PDF - 704 kb) PDF version of the original article as it appeared in siliconeer.com, October 2009 (Volume X. Issue 10 | ISSN 1528-9273)
---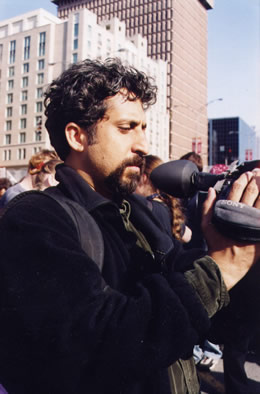 ALI KAZIMI: A COMMITMENT TO JUSTICE
presented by the
Pacific Film Archive in collaboration with EKTA and 3rd I Films
more info
THU SEP 14 2006 -
SAT SEP 16 2006

Filmmaker in person at all screenings!
For documentary filmmaker Ali Kazimi, , a commitment to justice is essential both on- and offscreen. "I know that I can't talk about social responsibility in my films as a theoretical construct and not do anything about it myself, in my life," he writes. Born and raised in India, Kazimi worked as a freelance photographer in Delhi, then emigrated to Canada after winning a scholarship to the film program at Toronto's York University. Kazimi has consistently trained his camera on those rarely represented onscreen, be they ostracized indigenous groups in India or recent immigrants in Canada. Telling of Indian villagers organizing against a government-sponsored dam, Indo-Canadians participating in arranged marriages, an Iroquois photographer creatively redefining his culture, or a horrific anti-immigrant incident from Canada's past, Kazimi focuses on the relationship between the individual and society, and the power that people have to effect change and defy how others have defined them. "All cultures,including my own," Kazimi notes, "have borrowed, incorporated, and absorbed influences from all encounters, absorbing, reviving, and at times reinventing themselves." To redefine and reinvent oneself in the face of internalized cultural pressure or external political power is true empowerment for Kazimi's subjects, and, one senses, for the artist as well.
---
SPEAK OUT AGAINST THE HINDUTVA ASSAULT ON CALIFORNIA HISTORY TEXTBOOKS
Details: Visit the CA Textbooks Issue Home Page
Today, we in California are facing a Hindutva assault on school history textbooks of the kind that went on a few years ago in India. This is an issue of rising concern in the California community and we at EKTA are alarmed by these attempts to misrepresent India and South Asia's ancient history and the history of Hinduism. Please join us in speaking out against these attempts to distort history texts with propaganda. (more info)
---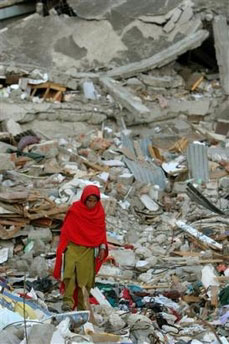 BEYOND BORDERS FUNDRAISER RAISES OVER $52,000 FOR EARTHQUAKE RELIEF
IN PAKISTAN AND INDIA
more info

On November 19, 2005, over 400 people came together at UC Berkeley's Wheeler Auditorium - rising above national, ethnic, linguistic, religious and cultural lines - to collectively raise over $52,000 for the survivors of the earthquake in Pakistan and India.

100% of the proceeds go towards grassroots earthquake relief efforts in Pakistan and India - specifically, Edhi Foundation (Pakistan), Sungi Development Foundation (Pakistan), & Association for India's Development's Jammu and Kashmir Fund (India).
---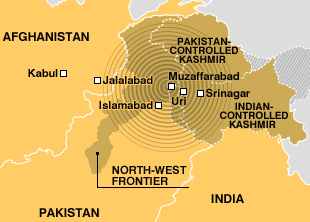 PLEASE SUPPORT EARTHQUAKE RELIEF EFFORTS IN SOUTH ASIA
As most of you know, South Asia was hit with a devastating 7.6 magnitude earthquake on Saturday, October 8th. The earthquake's epicenter struck close to Muzaffarabad in Pakistan-administered Kashmir with a radius of about 400 miles. As the death toll climbs past 90,000 and with over 3-4 million left homeless, numerous organizations across South Asia are stepping up to organize relief and rehabilitation. We urge all individuals in the U.S. and elsewhere to support them by donating generously.
For a list of recommended organizations for charitable contributions, click here.
---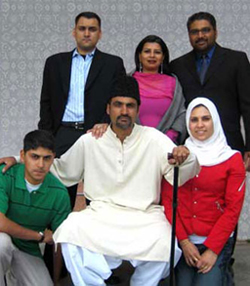 THE DOMESTIC CRUSADERS
Sept 10th - 11th
San Jose
more info
A two-act play about a Pakistani-American family in the aftermath of 9/11

The Domestic Crusaders chronicles the cultural, political, and religious conflicts of a fictional modern Pakistani American Muslim family living in post 9/11 America. Its blunt, no-holds barred authentic depiction focuses on one day in the life of one family composed of six unique members, who convene at the family home for a birthday celebration. With a background of 9-11 and the scapegoating of Muslim Americans, the humor, tensions and sparks fly among the three generations. The day culminates in an intense family battle as each "crusader" struggles to assert and impose their respective voices and opinions while still attempting to maintain and understand that unifying thread that makes them part of the same family.
---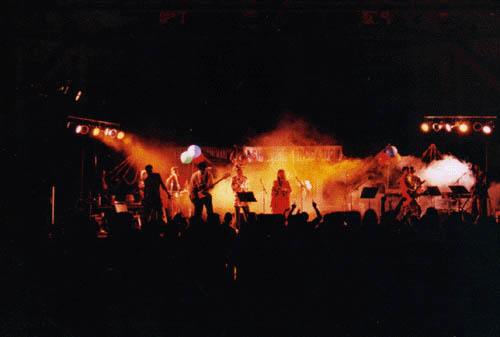 PEACE CONCERT IN CELEBRATION OF INDIAN AND PAKISTANI INDEPENDENCE DAYS
Aug 28th, 5 - 8 p.m.
International House
UC Berkeley more info
Featuring the Desi pop-rock band Antariksh
This Concert for Peace hopes to start conversations within South Asian communities of the SF Bay Area on the subject of Peace in South Asia. Some of the issues that are of concern to us are: the vital link between Peace and Development, the ongoing cost and threat of mutual nuclear destruction and the role of the military-industrial complex in fomenting a regional arms race between India and Pakistan.
We believe that people-to-people contacts are a crucial part of the peace process and that ordinary citizens can, by supporting the political will for peace, contribute substantially to a de-escalation of conflict and a scaling down of the official rhetoric of war.
We advocate the choice of co-operation over confrontation and advance an agenda of peaceful co-existence and mutually beneficial engagement. We invite each and every one of you to become a part of this celebration of peace!
This Concert is FREE and OPEN TO THE PUBLIC
More info at
www.friendsofsouthasia.org
---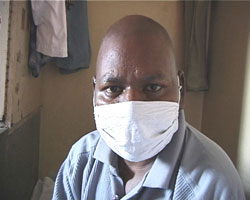 WAR & PEACE /
JANG AUR AMAN
A Film by Anand Patwardhan
June 8th
San Francisco
more info

Filmed over three tumultuous years in India, Pakistan, Japan and the USA - WAR & PEACE / JANG AUR AMAN is an epic documentary journey of peace activism in the face of global militarism and war. Triggered by macabre scenes of jubilation that greeted nuclear testing in the Indian sub-continent, WAR & PEACE / JANG AUR AMAN is dramatically framed by the murder of Mahatma Gandhi. Fifty years after his death memories of Gandhi seem like a mirage that never was, created by our thirst for peace and our very distance from it.
---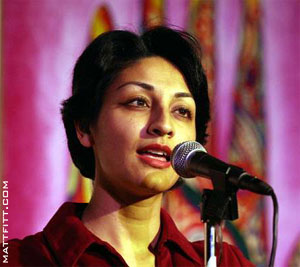 MIGRITUDE:
Spoken Word by Shailja Patel
Jun 21st
San Francisco
more info

MIGRITUDE explores global themes; heritage, war, freedom, by making intimate family treasures public. Similarly, it expresses universal experiences of colonized peoples through the journeys of Shailja's own diasporic Indian family. Three cross-continental migrations shape the story: the early 20th-century migration of Indians to East Africa; the mass expulsion and emigration of East African Indians to the global North from the 1970s onwards, and Shailja's own emigration from Africa, to Europe, to the US. The sequence maps her personal transitions as a migrant: from survival to self-expression, invisibility to activism, model minority to radical artist.
---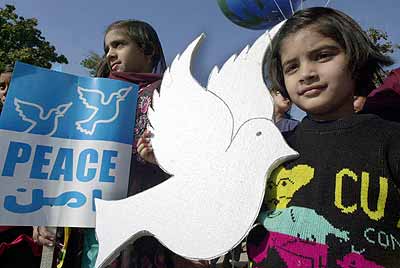 INDO-PAK PEACE SOLIDARITY MARCH
San Francisco,
May 15th
more info

Join the South Asian community in the SF Bay Area and show your solidarity to the marchers in India and Pakistan, who are threading across the subcontinent on a 6-week mission of establishing people-to-people contact, negating the tendencies of distrust, hatred and enmity, and spreading the message of peace and harmony. The march begins at Mission St/16th St and ends at Gadar Memorial Hall in Japantown.


---



NOTORIOUS INDIAN HUMAN RIGHTS ABUSER
DENIED ENTRY INTO US!
3/18/05

Coalition of thirty five human rights organizations
wins first victory
The American State department decision to deny Mr. Narendra Modi, the Chief Minister of Gujarat and chief architect of the Gujarat pogrom of 2002, a diplomatic visa and to revoke his existing tourist/business visa based on the International Religious Freedom Act is a landmark victory for the Coalition Against Genocide (CAG).... read more
---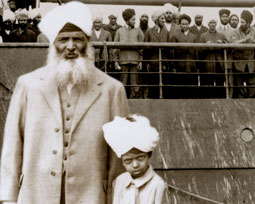 ALI KAZIMI'S CONTINUOUS JOURNEY
WINS BEST DOCUMENTARY FEATURE AUDIENCE AWARD AT SFIAAFF
3/17/05


Continuous Journey is a complex tale of hope, despair, treachery and tragedy. It is a revealing Canadian story with global ramifications set in a time when the British Empire seemed omnipresent and its subjects were restless and seeking self-determination. In 1914, Gurdit Singh, a Sikh entrepreneur based in Singapore, chartered a Japanese ship, the Komagata Maru, to carry Indian immigrants to Canada. On May 23, 1914, the ship arrived in Vancouver Harbour with 376 passengers aboard: 340 Sikhs; 24 Muslims and 12 Hindus. Many of the men on-board were veterans of the British Indian Army and believed that it was their right as British subjects to settle anywhere in the Empire they had fought to defend and expand. They were wrong... read more
---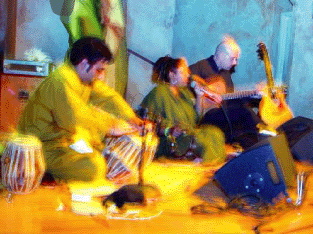 APA ARTISTS 4 TSUNAMI RELIEF EVENT RAISED OVER $2800 FOR RELIEF EFFORTS IN INDONESIA AND SRI LANKA
2/3/05

We are working with the Global Greengrants' Funds to disburse all funds collected directly to the following community-based groups in the two hardest hit areas: WALHI – Indonesian Forum for Environment (Indonesia), KSKBA - Solidarity Coalition for Humane Disaster Relief (Indonesia) and Saviya Development Foundation (Sri Lanka) more info
---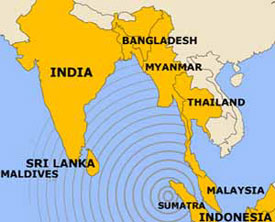 PLEASE SUPPORT ASIAN TSUNAMI RELIEF EFFORTS
12/27/04
It is time to give and give generously. As the death toll climbs past 150,000 and the world comes to grips with the devastation caused by the deadly Indian Ocean tsunamis, numerous organizations across Asia are stepping up to organize relief and rehabilitation. We urge all individuals in the U.S. and elsewhere to support them by donating generously.
For a list of recommended organizations for charitable contributions, click here.
---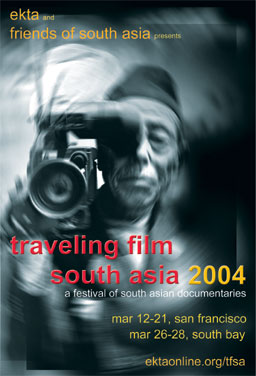 SHARED HISTORY AND DIVERSE CULTURES
FIND VOICE AT TRAVELING FILM SOUTH ASIA 2004
3/01/04

Showcasing the groundbreaking work and emerging talent of non-fiction filmmakers from South Asia, Traveling Film South Asia 2004 debuts on March 12 as the only festival of its kind in California. Organized by Ekta and Friends of South Asia (FOSA), in collaboration with Himal Association, the festival offers Bay Area filmgoers a rare opportunity to view a selection of 19 compelling documentaries that chart the shared history and complex lives of the people of the sub-continent. Covering a wide range of important political, social, and economic issues and giving voice to many of the region's people—women, religious minorities, and indigenous communities—the films focus the lens on life in contemporary South Asia, while celebrating its rich cultural diversity. Representing filmmakers from Bangladesh, India, Nepal, and Pakistan, this year's festival is a compilation of award-winning and thought-provoking films that include a selection of films from the 2003 Film South Asia (FSA) festival in Nepal, six films that screened at the recently concluded World Social Forum in India, and two films by the internationally acclaimed Pakistani filmmaker, Sabiha Sumar. The event runs from March 12-21 in San Francisco and from March 26-28 in Milpitas.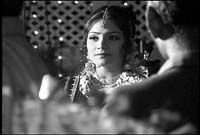 As the only such event solely dedicated to supporting contemporary South Asian non-fiction films, TFSA 2004 provides a unique platform for filmmakers to exhibit new works that examine critical and often provocative issues. This year's festival is particularly noteworthy because it screens three films that were censored by the recent Mumbai International Film Festival due to their anti-establishment content. The rejection of the films spawned a massive protest in the documentary film community, with over 170 Indian filmmakers threatening to boycott the festival [see Vikalp: Films for Freedom website]. In a political climate that threatens freedom of expression, festivals such as TFSA 2004 play an important role in advocacy and social change. For this reason, Film South Asia—the festival that TFSA draws upon—has gained a deserving recognition in the international community as a world-class festival that gives voice to visionary documentary filmmakers. Since its beginnings in 1997, Film South Asia has traveled to more than 45 international venues.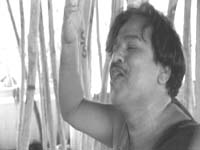 TFSA 2004 will be held over three weekends in March at two Bay Area venues: at the Mission Cultural Center, San Francisco, during March 12-14 and March 19-21, and at the India Community Center, Milpitas, during March 26-28. The March 12 program opens at the Mission Cultural Center at 7 p.m. with a screening of Amar Kanwar's, A NIGHT OF PROPHECY (India, 2002). One of the films censored at the recent Mumbai International Film Festival but shown at the World Social Forum, this poetic documentary travels through different parts of India to reveal how poetry and music can unify a nation's people even in the face of severe conflict and oppression. The program continues with the groundbreaking RESILIENT RHYTHMS (India, 2002), a dynamic and truthful portrayal of India's caste system and the Dalit response to their marginalization. Gopal Menon, known for his compelling and acclaimed documentary, Hey Ram: Genocide in the Land of Gandhi, directed the film.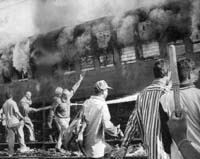 Reflecting the current political situation in India, religious fundamentalism and the need for tolerance was a powerful and recurrent theme explored by many of the films. In GODHRA TAK: THE TERROR TRAIL (India, 2003), director Shubradeep Chakravorty investigates the Godhra train burning and subsequent rioting that killed 2000 Muslims in Gujarat, India in February 2002. Chakravorty retraces in chilling detail the route of the first batch of kar sevaks from Gujarat to Ayodhya and back and carefully reconstructs the terror they unleashed en route leading to the Godhra fire and the riots that followed. In a climate of increasing religious divides, directors Jayasankar and Monteiro provide a glimmer of hope in their film, NAATA – THE BOND (India, 2003). The film is a moving tale of two friends who work on promoting communal harmony in Bombay's largest slum. Naata was one of the films removed from the Mumbai International Film Festival, but shown at the World Social Forum in Mumbai in January 2004.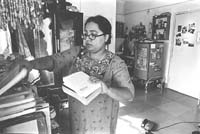 From body image to struggling for personal freedom in a male-dominated society, some of the most outstanding films of the festival focus on women's issues. SKIN DEEP (India, 1998), by Reena Mohan, is an exploration of body images and self-perception among contemporary urban, middle class women in India. The film is a playful, engrossing, and articulate rendering on women's complicated and contradictory relationships with their bodies. SWARA – A BRIDGE OVER TROUBLED WATER (Pakistan, 2003), by Samar Minallah, is a hard-hitting commentary on the Pakhtun practice of giving minor girls in marriage to an "enemy family" in reparation for serious crimes committed by male members of the girl's family. The issue is now before the Pakistan's Supreme Court and Minallah is hoping that legislation is brought soon to ban the practice of "swara." Also from Pakistan, is director Sabiha Sumar's film, DON'T ASK WHY (1999). Based on a diary, the film takes us into the life of Anousheh and provides a moving account of the dreams and fears of a 17-year-old girl growing up in a conservative and patriarchal society. Most of Sumar's films are banned in her native country.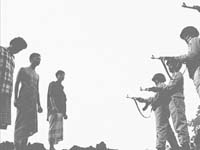 Two films from Bangladesh reveal that the nation's freedom struggle of the 1970s continues to be an important theme for its filmmakers. In WORDS OF FREEDOM (MUKTIR KOTHA) (1999), directors Tareque Masud and Catherine Masud tell the story of musicians traveling through refugee camps and war zones during the Liberation War in 1971. The film blends documentary and fictional genres in a musical structure to follow the birth of a nation and the ideals of secularism and tolerance on which it was founded. In TALE OF THE DARKEST NIGHT (SHEI RATER KOTHA BOLTE ESHECHI) (2001), director Kawsar Chowdhury recreates the horror of the massacre by the Pakistani army in Dhaka University. The film won the Second Best Film Award at Film South Asia 2003.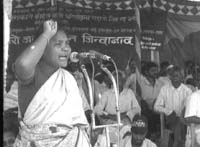 Other important themes explored in the films include the harmful effects of migration, displacement of rural and indigenous communities due to large development projects, and environmental degradation.

Ekta and Friends of South Asia (FOSA) present the festival, in collaboration with Himal Association. Ekta is a local nonprofit organization that provides a platform for social change through art, dialogue, and education within the South Asian community. FOSA is a Bay Area group that works towards a peaceful, prosperous, and hate-free South Asia. Located in the Kathmandu Valley region of Nepal, Himal Association is a nonprofit organization whose goal is to raise awareness of local, national, and international issues among Nepali people. Festival co-sponsors include the Center for South Asian Studies (University of California at Berkeley), the Department of Cultural and Social Anthropology at the California Institute for Integral Studies, the India Community Center, and SF Station.
For a complete list of films and show times, further information, or to purchase tickets online, visit http://ektaonline.org/tfsa or email tfsa@ektaonline.org. Tickets per show are $6 online ($9 at the door) at the Mission Cultural Center. For screenings at the India Community Center, tickets are $5 (at the door or online). A festival pass that covers films at both venues can be purchased online for $25.
---


A REPORT TO EKTA and CAC DONORS ON THE REHABILITATION OF THE SURVIVORS OF COMMUNAL VIOLENCE IN GUJARAT 4/22/03
click here
---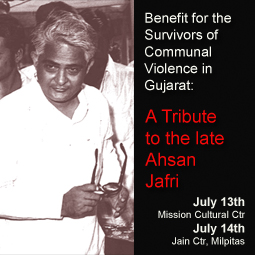 EKTA and CAC
RAISES $50,000
FOR THE
SURVIVORS OF
COMMUNAL VIOLENCE IN GUJARAT 8/1/02

EKTA and Coalition Against Communalism (CAC) organized the first major fund-raising event in the Bay Area for the survivors of the recent communal violence in Gujarat. The two-day event was held at the Mission Cultural Center in San Francisco (July 13, 2002) and the Jain Center of Northern California in Milpitas (July 14, 2002), and was a tribute to the late M.P. and peace activist, Ahsan Jafri, who was burnt alive by mobs, along with over 150 other people who had taken shelter at his home in Ahmedabad, on February 28th, 2002. In addition to moving presentations by the late Jafri's daughter and son-in-law, Nishrin and Najid Hussain, a recent documentary by Gopal Menon, Hey Ram: Genocide in the land of Gandhi, was screened, and a number of local artists performed at both events.

The two fund-raising events raised over $25,000 for relief efforts in Gujarat. American India Foundation (AIF) contributed an additional $25,000 in matching funds, making a GRAND TOTAL OF $50,000 for relief and rehabilitation efforts in Gujarat. SAATH, a member of Citizen's Initiative, was identified as the recipient of the funds raised.(Details of SAATH's proposal.)

EKTA and CAC would like to thank the many organizations who co-sponsored our two fundraising events- India Relief and Education Fund, Association for India's Development (Bay Area Chapter), Friends of South Asia, Global Exchange, Indian Muslim Relief Committee, Narika, South Asian Bar Association, 3rd I and Trikone- and the many dedicated volunteers, performers and donors who made our efforts a success!

Read our press release on the Gujarat violence.
---