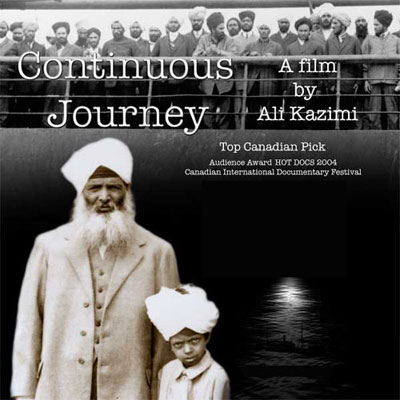 CONTINUOUS JOURNEY
Screening and Discussion with
ALI KAZIMI
In 1914, Gurdit Singh, a Sikh entrepreneur based in Singapore, chartered a Japanese ship, the Komagata Maru, to carry Indian immigrants to Canada. On May 23, 1914, the ship arrived in Vancouver Harbour with 376 passengers aboard: 340 Sikhs; 24 Muslims and 12 Hindus. Many of the men on-board were veterans of the British Indian Army and believed that it was their right as British subjects to settle anywhere in the Empire they had fought to defend and expand. They were wrong...
Continuous Journey is an inquiry into the largely ignored history of Canada's exclusion of the South Asians by a little known immigration policy called the Continuous Journey Regulation of 1908. Unlike the Chinese and the Japanese, people from British India were excluded by a regulation that appeared fair, but in reality, was an effective way of keeping people from India out of Canada until 1948. As a direct result, only a half-mile from Canadian shores, the Komagata Maru was surrounded by immigration boats and the passengers were held in communicado ­ virtual prisoners on the ship. Thus began a dramatic stand-off which would escalate over the course of two months, becoming one of the most infamous incidents in Canadian history.
During their two-month detention in the harbour, Canadian authorities drove the passengers to the brink of thirst and starvation. The stand-off was broken with the intervention of Prime Minister Robert Borden who also called in a Canadian battleship to underline his stance. On 21 July, over two-hundred fully armed local militia lined the shore, while The Rainbow, prepared for confrontation on the sea. All of Vancouver was out for the spectacle. Major confrontation was averted through eleventh-hour negotiations, and in the end, provisions for the Komagata Maru's return journey were provided.
The consequences of the incident were dire: informants within the community were murdered, and a key player for the Empire was assassinated. Upon its return to India, the Komagata Maru encountered hostile British authorities who fired on the passengers, suspecting them to be seditious. Over forty people went missing or were killed. Some of the passengers escaped, including Gurdit Singh, who lived to tell the "true story" of the Komagata Maru.

Several hundreds of Indians from Canada returned home to join an armed struggle against the British, that would later be brutally crushed by the colonial authorities.

The Komagata Maru's voyage and its aftermath exposed the Empire's myths of equality, fair-play and British justice, and became a turning point in the freedom struggle in India.

By examining the global context and repercussions of a Canadian event, Continuous Journey challenges us to reflect on contemporary events, and raises critical questions about how the past shapes the present.

(Canada, 2004, 87mins, Video, Color/ B&W, English & Punjabi w/E.S.)

Awards

Best Documentary Feature Audience Award
23rd San Francisco International
Asian American Film Festival

Winner, Second Place - Audience Award
Honourable Mention for Best Director
Hot Docs 2004 - Canadian International
Documentary Film Festival

Reviews

"….brilliant .. rarely has a documentary been so beautifully directed and rendered, shot for shot, image by image, pan by pan, zoom by zoom." - Peter Wintonick, POV Magazine


" Canadians often boast about the vibrancy and strength that flows from a multicultural society. But Canadian filmmaker Ali Kazimi's documentary, Continuous Journey, shatters any illusions that our nation-builders wanted it that way…. Once that story takes shape – through digital enhancement of photos and newspaper tearsheets, old newsreels and a clutch of interviews with historians and socio-political activists – the Komagata Maru episode becomes vivid. The strength of the film then rests in Kazimi's ability to relate it to systematic racism in Canada's early immigration policies." - Bruce Kirkland, Toronto Sun


" Kazimi has gone at the incident from every angle…. (His) interviews with historians both in Canada and India provide a rich context for the fate of the 375 rejected immigrants." - Susan Walker, Toronto Star


" Through archival footage, vintage photographic montage and inventive voice-over performance, Kazimi documents the story of the 340 Sikhs, 24 Muslims and 12 Hindus held on the boat a half mile from Canadian shores without provisions for more than two months. Continuous Journey, is the work of an experienced storyteller and image-maker. Kazimi's own journey from India (which he recounts here and in his previous films) has been a fortuitous event for Canada." - Leah McLaren, The Globe & Mail


" It's a complicated story, hinging on Canada's restrictive immigration policy and fears throughout the empire of (very real) Indian nationalism movements. But Kazimi makes a convincing argument that these people, like most immigrants, bore no ill will and posed no threat to their hoped-for new homeland." - Chris Knight, National Post


" Kazimi does a good job of contextualizing the Maru tragedy and providing a potted history of Canada's immigration policies … and despite the lack of first hand sources, the film is never dull, jazzed up with atmospheric music, 3-D photo montages and tricky editing techniques." - Paul Issacs, Eye Magazine
---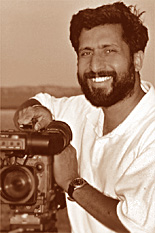 ALI KAZIMI is a multi-award winning documentary filmmaker based in Toronto, Canada. Raised in India, Ali Kazimi began his career as a self-taught photographer. In 1983 he won a scholarship to attend the film production program at York University, receiving his B.F.A (Honours) in 1987. In late eighties he decided to stay on in Canada to pursue a career as a film-maker.


Filmography
Flying Light (1984)
Voice of Our Own (1989) (co-director)
Narmada: A Valley Rises (1994)
Shooting Indians - A Journey with Jeffrey Thomas (1997)
Some Kind of Arrangement (1998)
Passage from India (1998)
Documenting Dissent (2001)
Continuous Journey (2004)
For more info, please visit
http://www.socialdoc.net/kazimi/