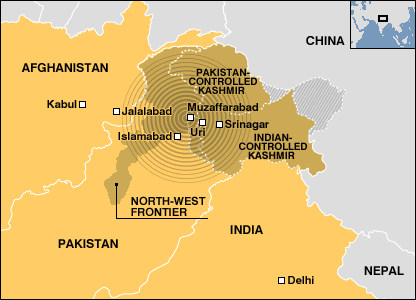 Image Source: BBC

Earthquake Relief in South Asia
Recommended Organizations for Charitable Contributions
---
South Asian Relief Organizations
Association for the Development of Pakistan * (ADP) [www.developpakistan.org]
Beneficiaries: Edhi Foundation
Association for India's Development * (AID) [www.aidindia.org]
Child Nurture and Relief * (CHINAR) [chinar.org]
The Citizens Foundation [www.thecitizensfoundation.org]
Edhi Foundation [www.paks.net/edhi-foundation]
India Relief and Education Fund* [iref.homestead.com]
Indians for Collective Action* [www.icaonline.org]
ICA is raising funds for victims on both sides of the border.
Sungi Development Foundation [www.sungi.org]
---
International Relief Organizations
Doctors Worldwide [doctorsworldwide.org]
Doctors without Borders / Medecins Sans Frontieres* [www.doctorswithoutborders.org]
International Federation of the Red Cross [www.ifrc.org]
UNICEF* [unicef.org]
---
* 501(c)(3) Charitable Organizations. All contributions are tax-deductible in the U.S. to the full extent of the law.