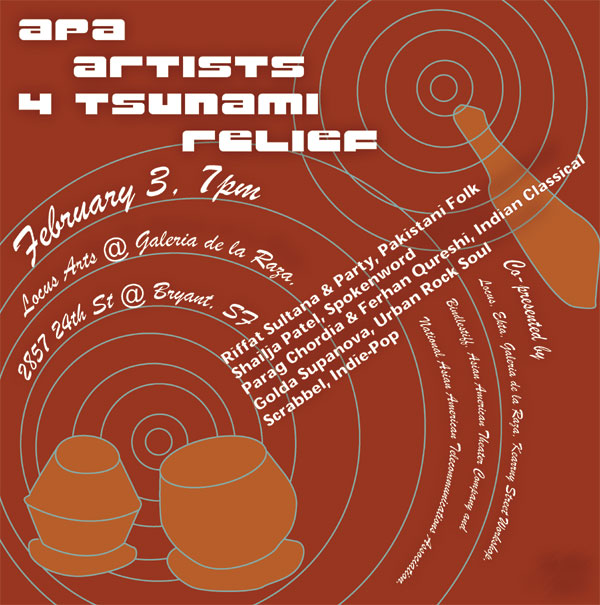 ---
APA Artists 4 Tsunami Relief
APA Artists unite to raise funds for tsunami relief. Come out for a night of music and words and join our efforts to raise funds for tsunami relief.
THURS, FEB 3, 7PM
Locus Arts @ Galeria de la Raza
2857 24th St. @ Bryant
San Francisco [directions] [print flyer]

Suggested Donation:
$10 and up (as much as you want!)
All proceeds benefit tsunami relief efforts in Indonesia and Sri Lanka.
Co-presented by Locus, EKTA, Galeria De La Raza, Dhamaal, Kearny Street Workshop, Bindlestiff Studio, Asian American Theater Company, manja.org, Asian Improv aRts, Asia Society Northern California, and NAATA.
---
About the Artists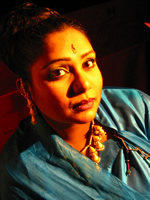 RIFFAT SULTANA is the first woman from her family's musical lineage to publicly perform in the west. She is the daughter of Ustad Salamat Ali Khan, who was universally recognized and acclaimed as the finest Pakistani Classical singer of his time. Her family represents a 500-year lineage of musicians hailing from the Sham Chaurasi Gharana (school of music). The Ali Khan family are direct descendents of 2 famed court musicians, Suraj (of the Sun) Khan & Chand (of the Moon) Khan, who performed Morning and Evening Ragas respectively for the artistically devoted Mughal Emperor Akbar the Great. Her vocals have been recorded for numerous labels including Ark 21/Universal, Triloka/Mercury, Hearts of Space, City of Tribes, 6 Degrees & XDot25. Riffat frequently performs with her trio, "Riffat Sultana and Party", accompanied by Shiraz Ali Khan on 12 string guitar and Ferhan Najeeb Qureshi on tabla. www.riffatsultana.com
SHAILJA PATEL is the 2001 Lambda Slam Champion, Santa Cruz Slam 2000 Champion and represented Team Santa Cruz at the National Slam Championships 2000. She was a featured panelist and guest poet at the National Youth Slam Championships 2001. Her work appears in Awaaz (London), Trikone Magazine, Sow's Ear Poetry Review, the Emily Dickinson Award Anthology and the CD, Best of the Berkeley Slam Poets. Her awards include the 1999 Outwrite Poetry Prize, semifinalist for the 2000 Emily Dickinson Award and the 2000 Nicholas Roerich Poetry Prize. She is a recipient of a Serpent Source Foundation For Women Artists Grant and a Voices Of Our Nations Arts Foundation Poetry Scholarship. more info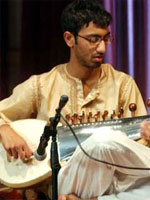 PARAG CHORDIA studies sarod with Pandit Buddhadev Das Gupta, a brilliant, pioneering sarod player who played a pivotal role in the birth of modern sarod playing. Earlier he trained with Michael Robbins who studied with two legends, Pandit Radhika Mohan Maitre (the teacher of Pandit Buddhadev Das Gupta) and Pandit Jnan Prakash Ghosh. Since 1998, Parag has been the host of "Gharana Music" and Carnatic Radio, a three hour program devoted to Indian art music heard weekly on Stanford radio station KZSU, FM 90.1. In 2001 he founded Bol Records, a new label at the vanguard of Indian art music.
FERHAN QURESHI has been a student of tabla and traditional Pakistani/Indian music for the past 10 years. He has performed with the Dhamaal Artists Collective and can also be heard on DJ Zeph's album, Sunset Scavenger. Ferhan is the senior disciple of the tabla maestro Ustad Abdul Sattar Tari Khan, who is recognized as one of the foremost tabla players performing today. Ferhan studies the Punjab gharana of classical tabla. He is also the Director of Artist Management at Bol Records.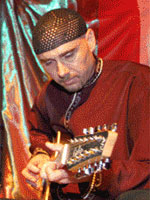 RICHARD MICHOS aka Shiraz Ali Khan along with Ferhan Qureshi is the driving force of Riffat Sultana and Party and a student of Riffat's father, the incomparable Ustad Salamat Ali Khan. He has worked extensively with the guitar, and in the recording studio to blend music from Pakistan to the Middle East with Western and International styles. He also leads Riffat's full seven piece band, Shabaz, which is signed to Miles Copeland's Ark 21 label. Richard has also produced many commercially available albums for include MondoMelodia, City of Tribes, Hearts of Space, Six Degrees, and Xdot25. His most exciting current project is the finalizing of the debut CD from Riffat Sultana and Party.
SCRABBEL was formed in 1999 with old high school friends, Becky Barron and Dan Lee. They made their live debut at the 2000 San Francisco Asian American Film Festival "Directions In Sound" music night with the Aislers Set and Sweet Trip, and released their first record in 2001 on Kittridge Records. The kazoos and speak n spells from the 1st record were traded in for cellos and violins on the 2nd record, "1909". Some guest performers include Alicia Vanden Heuval (Aislers Set), Gary Olson (Ladybug Transistor), and Pete Nguyen (Total Shutdown and Ee). On "1909", mastermind Dan Lee (who plays everything from keyboards to guitar to clarinet to speak & spell) has jumbled string sections with whimsical pop, early British invasion melodies and electro blip beats. He even incorporates the ambient sounds of a BART subway station to create something simply original. The live band has grown from a 2 piece to a larger ensemble of friends, including Hellen Jo, Nathalie Roland, Stanley Lam, and Atsushi Murase, featuring everything from drums, guitars, cello, violin, organ, and xylophone. www.scrabbel.org
GOLDA SUPANOVA and the COMIC BOOK HEROES arrive in splendid new-millennium rock fashion. 3rd World born, 1st World bred, fed on old school hair rock, with new wave appetites, perverted by jazz and addicted to majestic chaos. LAVA, their first LP due in SPRING 2005, is the product of struggle, stubborn individuality and torturous dedication. Tracks like "Fall," "Diamond," and "False" are all arsenic and ear candy, full of fast paced new wave bass, classic rock riffs and the drama of a good novel. The Comic Book Heroes are: Ogie Gonzales - providing raucous yet rock-solid rhythms on the drums; Brandon Bigelow - lurching elegantly between razor-sharp and smoky-smooth on the guitar; and James Gonzales - perpetual energy on the bass.
---
ALL GROSS PROCEEDS BENEFIT RELIEF EFFORTS IN
INDONESIA AND SRI LANKA
We are working with the Global Greengrants' Funds to disburse all funds collected directly to the following community-based groups in the two hardest hit areas:
Indonesia Relief Effort
WALHI – Indonesian Forum for Environment (Wahana Lingkungan Hidup Indonesia), has established the Indonesian Civil Society Coalition for the Victims of Earthquake and Tsunami to provide aid to the victims. The coalition has set up crisis centers in Jakarta and Medan in northern Sumatra. All funds received will be allocated for emergency response as well as the post-emergency phase of rebuilding shattered lives and livelihoods. WALHI has received past funding from Greengrants to protect forests and coastal areas in Indonesia. Daily updates on the relief effort in Sumatra are available on WAHLHI's website (http://www.eng.walhi.or.id/).
KSKBA - Solidarity Coalition for Humane Disaster Relief (Kaolisi Solidaritas Kemanusiaan Bencana Alam) is a coalition of locally based organizations that was created on December 27, 2004 to help coordinate relief efforts in Aceh. Greengrants has provided funding to several members of this coalition in the past. The coalition is now focusing on distribution of food and medicines and restoring access to communities isolated by the disaster. As immediate needs are met, the coalition will shift focus to reconstruction and coastal restoration.
Sri Lanka Relief Effort
Saviya Development Foundation in Galle, Sri Lanka is responding to the crisis by providing relief to the 25 refugee centers along the southern coast of Sri Lanka. Saviya will use donations to supply food and water to families in the area who have lost their homes and property, support medical efforts at the refugee centers, and to resolve local housing problems. In the past, Saviya has received Greengrants funds to restore and preserve the Madu Ganga wetlands, and to engage local school children in this process.
Global Greengrants' Fund
Global Greengrants' Fund is a U.S. 501(c)(3) tax-exempt organization, and will match the first $25,000 donated to this special relief effort. 100 percent of Tsunami Fund donations will be sent to these relief efforts. http://www.greengrants.org
---
Please consider making a contribution even if you cannot attend!
Click below for more info:

Recommended Organizations for Charitable Contributions
Note: Charitable donations made by January 31, 2005 to charities providing aid to tsunami victims can be taken as tax deductions on your 2004 tax return.