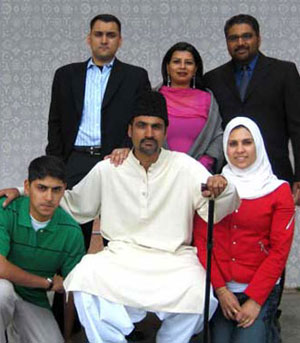 The Domestic Crusaders
Act II, Scene I

The Domestic Crusaders focuses on one day in the life of a modern Pakistani-American family of six eclectic, unique members, who convene at the family house to celebrate the twenty-first birthday of the youngest child.

With a background of 9-11 and the scapegoating of Muslim Americans, the tensions and sparks fly among the three generations, culminating in an intense family battle as each "crusader" struggles to assert and impose their respective voices and opinions, while still attempting to maintain and understand that unifying thread that makes them part of the same family.

The three generations of the family include: the grandfather, Hakim, a retired, Pakistani army official who harbors a terrible secret; Salman, his son, a middle-aged corporate engineer trying to maintain his pride and self-respect; Khulsoom, Salman's wife, longing for her homeland and wishing to impart her traditions, values, and morals to her American-born children; Salahuddin, the eldest child, stubbornly clinging to his ideals of success, as well as his anger and resentment towards his father; Fatima, the middle child, passionately advocating her Islamic identity, while rejecting the traditional stereotypes and biases of her mother; Ghafur, the youngest, the golden child abandoning his family's expectations in order to discover his own path. These individuals are "The Domestic Crusaders"!

For more info, please visit domesticcrusaders.com

Profiles of the Actors who perform in Act II, Scene I of "The Domestic Crusaders

Atif Hussain Naqvi (Ghafur, the youngest son) is currently attending Ohlone/Chabot College where he majors in Architecture. He has made a documentary about Islam in Christianity, and has a second documentary/sequel in preproduction, with partner Hadi Mirza. They both have completed a screenplay/storyboard for a short film about the grave, which they will begin filming in Summer 2005. He has been writing a novel for about two years, based on Hussain, the grandson of Prophet Mohammad (SAW). Atif is nineteen years old. He relaxes with video games; cricket; writing; Star Wars movies, books, games...etc.; video editing; and solitude in staring at walls...

Kashif Naqvi (Salahuddin, the eldest son) is a native of the Bay Area, who has dabbled in various acting activities throughout school and on through university, as well spending a good portion of his childhood directing and acting in short movies with Wajahat and Atif. Kashif originated the role of Salahuddin in the stage reading of The Domestic Crusaders in 2004. As countless other South Asians, he currently works in the Information Technology field. He prays five time a day that his acting will not be outsourced. Kashif lists his hobbies as films, movies, cinema, and moving pictures; as well as writing, traveling, and lolly gagging; and is currently trying to find the formula of doing all of those hobbies at once.

Sadiya Shaikh (Fatima, the daughter and middle child) has been immersed in music and performance since the ripe old age of six when her parents enrolled her in violin and ballet classes. Even then she enjoyed being the center of attention. Since then she's had minor parts in musicals and done voice-overs. The Domestic Crusaders marks her public acting debut. She is also co-founder of a thriving East-West fusion inspired clothing line.

Wajahat Ali (Playwright) is a Muslim American of Pakistani descent who is neither a terrorist nor a saint. The Domestic Crusaders is his first play. Born and raised in the Fremont Bay Area, he has been writing, producing and directing plays, films, and sketches since he was a child, enlisting his friends to be actors and crew. He performed stand-up comedy while attending the University of California, Berkeley. In Fall, 2001, during his undergraduate studies there, he hesitantly began writing The Domestic Crusaders in order to pass a 20 page short story assignment due for a writing class taught by Ishmael Reed, and with his encouragement, transformed the piece into a full length play. In addition to just entering his second year as a law student at the University of California, Davis, he is currently mapping out a two-part prequel/sequel of The Domestic Crusaders.

Carla Blank (Director) began her performance career as a child and made her New York City debut in 1963, as a participant in the experimental and collaborative Judson Dance Theater Workshops. She has been a performer, director, and teacher of dance and theater in the San Francisco Bay Area for thirty-five years, especially devoting her time to youth and community arts performance projects. Funders of Bay Area programs have included the California Arts Council, the Alameda Arts and Berkeley Civic Arts commissions, and the Zellerbach, Stulsaft and San Francisco foundations. She also taught Performance Art at Dartmouth College, Harvard's Office of the Arts, and lectured on 20th century art history at U.C. Berkeley's Department of Dramatic Arts and Interdisciplinary Studies. She has been involved in the development of The Domestic Crusaders since its inception, both as dramaturg and director. She is co-author, with Jody Roberts, of "Live On Stage!," an anthology of performing arts techniques and styles available in teacher resource and student editions (Dale Seymour Publications, a Pearson education imprint, 1997), and author and editor of the recently released historical reference, "Rediscovering America, The Making of Multicultural America, 1900-2000," (Three Rivers Press, a Random House imprint, 2003). Her current writing project is a timeline of 19th century America.