Sand and Water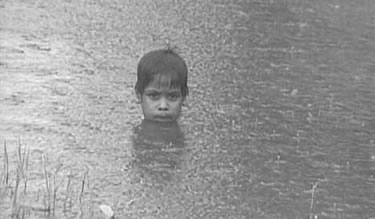 The shoals of the Jamuna River are submerged in water during monsoon season, and in winter they are transformed into a desert-like landscape. Despite the harsh natural conditions, the people who live there are upbeat and do not want to move away. Bangladesh, often portrayed as a country plagued by flood damage, is depicted through efforts to coexist with a river
With a population of more than 100 million and a countryside criss-crossed by some 200 rivers, Bangladesh is constantly under the threat of devastating floods. This marvellous ethnographic film looks at the lives of people who work primarily as farmers on one of the country's great rivers, the Brahmaputra. Despite disastrous floods and tough economic circumstances, the dwellers of the river's islands live a rich existence filled with family, religion, ritual and music. Beautifully shot by its director, Sand and Water is a poetic look at a social issue. Although there's no doubt the subjects of this film live in poverty, their lives are not impoverished. This film acknowledges the dignity and responsibility of the people profiled, inspiring the viewer to want more for them and their plain but beautiful existences. - Marc Glassman.
Third Best Film Award, Film South Asia '03
ABOUT THE DIRECTOR
Shaheen Dill-Riaz has been a film society activist in Bangladesh since 1988. He studied History of Art, History of Indian Art, and Theatrical Science at Freien Universitat Berlin, and at the Hoshschule fur Film und Fernsehen Konrad Wolf in Potsdam. Dill-Riaz completed his Master's degree in 2002 and Sand and Water is his graduation film.
Bangladesh, 2002
109 min
DV Color
Bangla
Subtitled
Direction
Shaheen Dill-Riaz
Camera
Shaheen Dill-Riaz
Editing
Dietmar Kraus
Sound
Wolfgang Amrain
Animation
Alex Isert
Production
HFF Potsdam
Contact
Kathrin Lemme
kathrin@lemmeflim.de